VTRX VDE-SAT Transceiver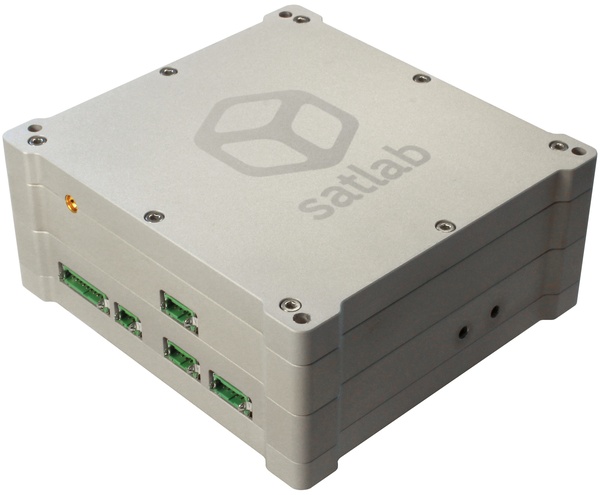 The Satlab VTRX is a half-duplex VDES/VDE-SAT transceiver compliant with ITU-R M.2092-1.
The transceiver is designed for integration on nano- and microsatellites in 500-700 km orbits. The VTRX integrates a multi-channel modem as well as VDE-SAT protocol stack.
An external GNSS-receiver with NMEA 0183 and PPS output is required for timing and frequency control.
Features
Multi-channel half-duplex transceiver compliant with M.2092-1
Support for addressed and broadcast downlink messages
Support for addressed uplink messages
Support for uplink and downlink short messages
Support for paging
Compatibility tested with commercial VDE-SAT ship transponders
CAN, RS-422, and Ethernet connectivity
Based on existing SDR platforms flying for several years
In-orbit validation ongoing since January 2023
PC/104 form factor aluminum enclosure
Delivered with support library for easy integration
Fully on-orbit software upgradable
Key Parameters (preliminary)
| Parameter | Specification |
| --- | --- |
| Transmitter frequency | 157.1875 MHz to 157.3375 MHz (lower leg)161.7875 MHz to 161.9375 MHz (upper leg) |
| Transmitter channels | 2 |
| Transmitter power | 20 dBm per channel (nominal, adjustable) |
| Transmitter Link IDs | 26, 32, 33 |
| Receiver frequency | 157.1875 MHz to 157.3375 MHz (lower leg)161.7875 MHz to 161.9375 MHz (upper leg)156 MHz to 162.025 MHz (spectrum capture) |
| Receiver channels | 2 |
| Receiver sensitivity | -134 dBm (Link ID 20, <1% PER) |
| Receiver Link IDs | 20, 21, 22 |
| Input voltage | 11 V to 18 V |
| Typical power consumption(12 V input, 20℃, 2 channels) | RX: 7 WTX: 11 W |
| Operating temperature | Nominal: -20℃ to +50℃Extended: -40℃ to +70℃Non-op: -40℃ to +85℃ |
| Dimensions | 93.0 mm × 87.2 mm × 39.7 mm |
| Mass | 420 g |
| Timing Input | NMEA 0183 and PPS (3.3 V differential) |
Customization
Custom hardware and software requests can often be accommodated. Please see the R&D section
Price and lead time on request
Request More Information