SRS-3 Full-duplex S-band Transceiver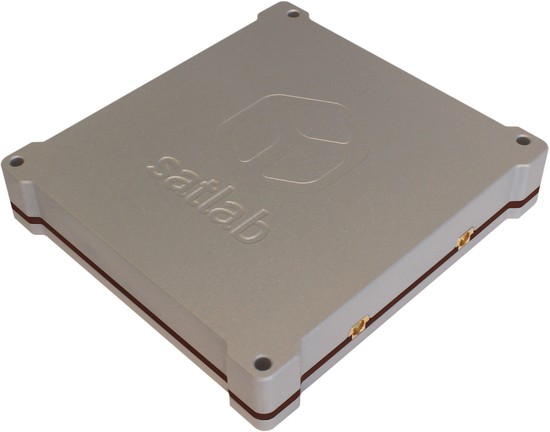 The Satlab SRS-3 is a full-duplex, low-power, S-band transceiver designed for TM & TC on micro- and nano-satellites.
The self-contained system operates on the ITU space operations S-band frequencies and features integrated transmit and receive filters, LNA and power amplifier, requiring only passive external antennas.
SRS-3 is highly configurable, with transmit and receive frequencies, bit rates, output power and framing configurations being adjustable on-orbit.
Features
Variable transmit bit rate up to 512 kbps
Configurable forward error correction and framing
Adjustable output power up to 30 dBm with Automatic Level Control
On-board PA, LNA, transmit and receive filters
CAN-bus and RS-422 interfaces using CubeSat Space Protocol (CSP)
Magnetic-less Ethernet interface with IP routing
Wide input voltage range with over-current protection and external watchdog timer
CubeSat Kit form factor compatible aluminum enclosure
Delivered with source-level software support library for easy integration
Key Parameters
Parameter
Specification
Transmitter frequency
2200 to 2290 MHz
Transmitter bit rate
128 to 512 kbps
Transmitter power
Adjustable 20 to 30 dBm, with ALC
Receiver frequency
2025 to 2110 MHz
Receiver sensitivity
-104 dBm (<1&percnt; PER)
Receiver bit rate
128 kbps
Modulation
GMSK
Input voltage
5 to 40 V
Typical power consumption
(5 V input, 20℃, 30 dBm)
Awaiting frames: 550 mW
Full-duplex transmit and receive: 5.0 W
Operating temperature
RX: -40℃ to +85℃
TX: -40℃ to +70℃
Dimensions
87 × 93 × 17 mm
Mass
190 g
Additional Resources
Customization
Custom hardware and software requests can often be accommodated. Please see the R&D section
Standard lead time: 8 weeks
Request More Information