Polaris ADS-B Receiver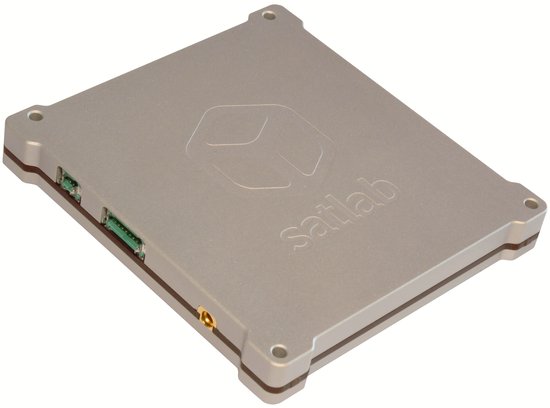 The Satlab Polaris ADS-B is a fully self-contained software-defined radio receiver for 1090 MHz ADS-B messages, with integrated demodulator and storage.
This versatile SDR offers excellent performance given the typical size, weight and power constraints of a CubeSat - or as an additional payload on larger LEO satellites.
The Polaris ADS-B receiver is based on Satlabs second generation SDR platform, based on the in-orbit experience gained from the QubeAIS receiver, which has flown on several missions since 2013.
Features
Covers the 1090 MHz band
Possible to download raw IF spectrum samples
128 MB primary data storage and 1 GB secondary storage
1.5 W average power consumption
Low-IF receiver with 16-bit I/Q ADC
LNA and SAW filters onboard
Delivered with SW library for easy integration
CubeSat Space Protocol (CSP) compatible
CAN, Ethernet and RS-422 connectivity
Input voltage 4.5 to 40 V
CSK-compatible form factor
SMP antenna connector
ESD protection on all interfaces
Key Parameters
Parameter
Specification
Frequency band
1090 MHz
ADS-B message types
DF 17 & 18
Sensitivity
-102 dBm (80% reception rate)
Noise figure
<2 dB
Maximum message rate
8333 messages/second
Frame store capacity
1048576 frames
Input voltage
4.5 - 40 V
Typical power consumption
1500 mW (5 V input, 25℃)
Operating temperature
-40℃ to +85℃
CAN-bus
Up to 1 Mbit/s
RS-422
Full duplex, up to 3 Mbit/s
Ethernet
Full duplex, 100 Mbit/s
Primary storage
128 MB NOR-flash
Secondary storage
1 GB SLC SD card
Dimensions
93.0 x 87.2 x 12.5 mm
Mass
185 g
Qualification status
| Parameter | Specification |
| --- | --- |
| Thermal soak | -40 to +85℃ |
| Vibration testing | 14.1 Grms |
| TID | 20 krad(Si) board level |
Additional resources
Customization
Custom hardware and software requests can often be accommodated. Please see the R&D section
Standard lead time: 8 weeks
Request More Information